Hi Folks
Been making some new pieces from patterns on the French Beading Forum -
http://www.ileauxperles.com/
.
I love making rings, so had to have a go at this one. It's quite a big ring with the centre bead measuring 10mm (1cm).
The first bracelet is very chunky, so I have to feel brave when I'm wearing it :-/ I don't normally "do" chunky. The second bracelet is a beautiful shade of blues, with a hint of topaz.... see the seedies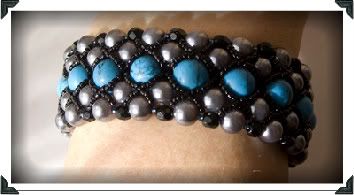 Anyway, I'd love to have some comments, so please feel free to post some.
Cheers
Carrie
:)